I've been noticing that Tamil signs in Toronto are often straight transliterations of English. It's interesting to see how English is represented in another phonological and orthographical system.
Vowels are inserted in consonant clusters, and the same letter is used for more than one English phoneme, for instance /s/ and /tʃ/. Tamil doesn't make a phonemic distinction between /t/ and /d/, so in order to make the distinction, rhotic letters (/r/ sounds) are often used for English /t/. For instance, English
great
becomes கிறேற்
kiṟēṟ
.
btw, today wikipedia
informs me
about Tamil phonology that "Though many characters sound alike, the different tongue-teeth vocal coordinations, produce different sound tones." Thanks for that.
நித்தியாஸ் ரெக்ஸ் அன் ஜுவல்லறி - nittiyās reks aṉ juvallaṟi - Nithya's Tex and Jewellery
விடோ தியேட்டர் - viṭō tiyēṭṭar - video theatre
சில்க் - cilk - silk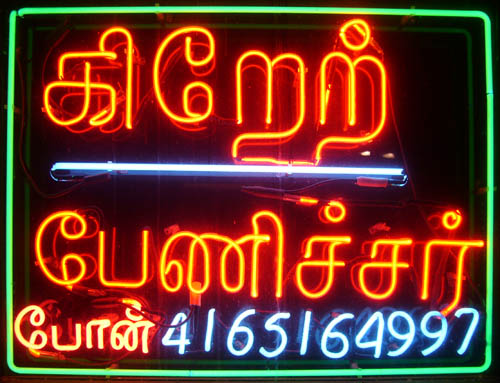 கிறேற் பேணிச்சர் - kiṟēṟ pēṇiccar - that is, "Great Furniture", the name of the store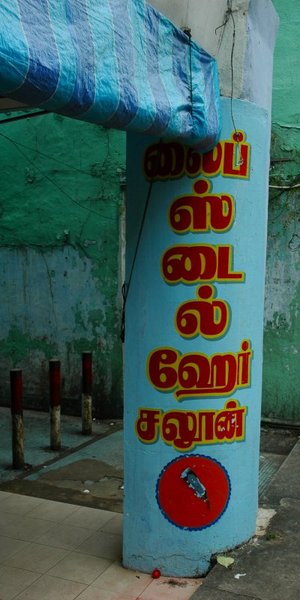 லைப்ஸ்டைல் ஹேர் சலூன் - laipsṭail hēr calūṉ - Lifestyle Hair Saloon